Website Terms & Conditions
PLEASE READ THESE TERMS AND CONDITIONS CAREFULLY AS THEY GOVERN YOUR ACCESS AND USE OF THIS WEBSITE. ACCESSING THIS WEBSITE OR VIEWING ANY OF ITS CONTENTS SHALL CONSTITUTE YOUR AGREEMENT WITH THESE TERMS AND CONDITIONS.
If you do not agree with our policies and practices, your choice is to not use our Website. Your continued use of this Website after we make changes is deemed to be acceptance of those changes, so please check the policy periodically for updates.
Privacy. Your personal information will be handled as described in our Privacy Notice. While our Website includes the ability for you to email us with questions, it is very important that no account specific information be included using this feature. Emails sent through this channel are not encrypted. If you have logged in to our online banking service, emails sent through the online banking system are delivered in a secure manner and you may include account specific information if desired.
Intellectual Property Rights. The Website and its entire contents, features and functionality (including but not limited to all information, software, text, displays, images, video and audio, and the design, selection and arrangement thereof), are owned by Forcht Bank, its licensors or other providers of such material and are protected by United States and international copyright, trademark, patent, trade secret and other intellectual property or proprietary rights laws. The posting of the Contents of this Website does not constitute a waiver of any of Forcht Bank's proprietary rights or any other party's proprietary rights, including but not limited to, copyrights, trademarks, servicemarks, patents, and other intellectual property, nor the grant of any such rights or of any license to the Website user or to any third party.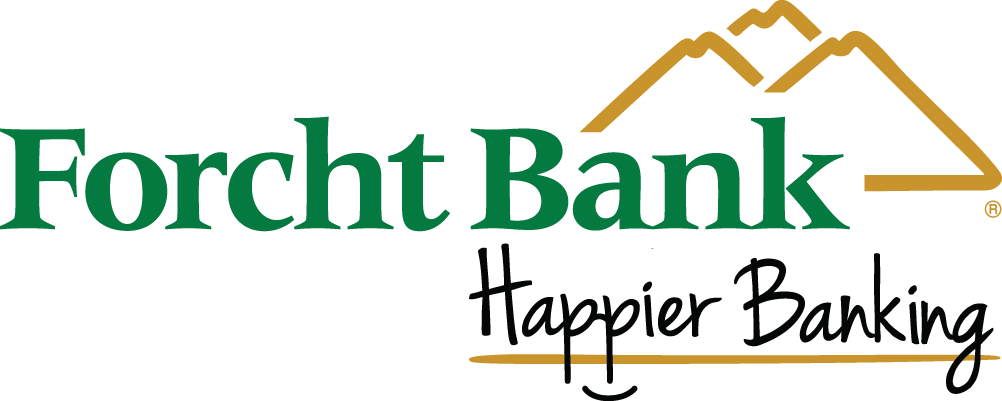 The Forcht Bank logo above is a registered trademark of Forcht Bank.
These Terms and Conditions permit you to use the Website for your personal, non-commercial use only. Unless you obtain our express prior written consent, you may not copy (other than a copy for personal use), modify, distribute, transmit, display, perform, transfer, resell, or republish any of the material on our Website.
Any downloading of content or other material contained in the site, or of any site linked to the site may be a violation of trademark and copyright laws.
Reliance on Information Posted. The information presented on or through the Website is made available solely for general information purposes. We do not warrant the accuracy, completeness or usefulness of this information. Any reliance you place on such information is strictly at your own risk. We disclaim all liability and responsibility arising from any reliance placed on such materials by you or any other visitor to the Website, or by anyone who may be informed of any of its contents. We may update the content on this Website from time to time, but its content is not necessarily complete or up-to-date. Any of the material on the Website may be out of date at any given time, and we are under no obligation to update such material. This Website may include content provided by third parties. All statements and/or opinions expressed in these materials, and all articles and responses to questions and other content, other than the content provided by Forcht Bank, are solely the opinions and the responsibility of the person or entity providing those materials. These materials do not necessarily reflect the opinion of Forcht Bank. We are not responsible, or liable to you or any third party, for the content or accuracy of any materials provided by any third parties.
Links from the Website. If the Website contains links to other sites and resources provided by third parties, these links are provided for your convenience only. We have no control over the contents of those sites or resources, and accept no responsibility for them or for any loss or damage that may arise from your use of them. If you decide to access any of the third party websites linked to this Website, you do so entirely at your own risk and subject to the terms and conditions of use for such websites.
Linking to the Website and Social Media Features. You may link to our homepage, provided you do so in a way that is fair and legal and does not damage our reputation or take advantage of it, but you must not establish a link in such a way as to suggest any form of association, approval or endorsement on our part without our express written consent.
Prohibited Uses. You may use the Website only for lawful purposes and in accordance with these Terms of Use. You agree not to use the Website:
In any way that violates any applicable federal, state, local or international law or regulation (including, without limitation, any laws regarding the export of data or software to and from the US or other countries).
To impersonate or attempt to impersonate Forcht Bank, a Forcht Bank employee, another user or any other person or entity (including, without limitation, by using e-mail addresses associated with any of the foregoing).
To engage in any other conduct that restricts or inhibits anyone's use or enjoyment of the Website, or which, as determined by us, may harm Forcht Bank or users of the Website or expose them to liability.
Information We Collect Through Automatic Data Collection Technologies. As you navigate through and interact with our Website, we may use automatic data collection technologies to collect certain information about your equipment, browsing actions, and patterns, including:
Details of your visits to our Website, including traffic data, location data, logs, and other communication data and the resources that you access and use on the Website.
Information about your computer and internet connection, including your IP address, operating system, and browser type.
We also may use these technologies to collect information about your online activities over time and across third-party websites or other online services (behavioral tracking). The information we collect automatically is only statistical data and does not include personal information. It helps us to improve our Website and to deliver a better and more personalized service, including by enabling us to:
Estimate our audience size and usage patterns.
Store information about your preferences, allowing us to customize our Website according to your individual interests.
Speed up your searches.
Recognize you when you return to our Website.
The technologies we use for this automatic data collection may include:
Cookies and Similar Tracking Technologies. The use of cookies and similar tracking technologies (including pixels or clear GIFs, tags, web beacons and Flash objects) is a common internet practice. Cookies are text files containing small amounts of information that are downloaded to your computer, smartphone, tablet or other mobile device when you visit a website. Tracking technologies may collect information about you and your use of sites and mobile apps. The text file is then sent back to the server each time the browser requests a page from the server. This enables the Web server to identify and track the Web browser. A cookie may be stored on your computer's hard drive. You may be able to set your Web browser to reject cookies entirely or require that it request permission from you before accepting each new cookie. You can also delete cookies from your hard drive once you leave a website.
We work with advertising partners, ad networks and servers, content providers, and other third-parties relating to advertisements. One of the services we use to track activity related to our services, e.g. by placing cookies, is Google Analytics. We also may use vendors who use various cookies to inform, optimize, and serve ads based on past visits to our Website. We may use the information we have collected from you to enable us to display advertisements to our advertisers' target audiences. Even though we do not disclose your personal information for these purposes without your consent, if you click on or otherwise interact with an advertisement, the advertiser may assume that you meet its target criteria.
Please note, there is no ability to "opt out" from retargeting, targeted advertising, or otherwise being tracked on this Website. If you do not want this type of data collected from you, do not use the Website.
Notice to California Residents. This notice to California residents is provided under California law, including the California Consumer Privacy Act ("CCPA"), Cal. Civ. Code 1798.100, et seq., and supplements the foregoing Website Terms & Conditions by explaining your privacy rights if you are a California resident.
As noted above, we do not collect any personally identifiable information from you. Under California's "Shine the Light" law (Cal. Civ. Code Sections 1798.83 et seq.), California residents can request certain information regarding our disclosure of certain information to third parties for their direct marketing purposes. To make such a request, please submit a written request to Barry Burton, [email protected].
NO WARRANTIES. WE WILL NOT BE LIABLE FOR ANY LOSS OR DAMAGE CAUSED BY A DISTRIBUTED DENIAL-OF-SERVICE ATTACK, VIRUSES OR OTHER TECHNOLOGICALLY HARMFUL MATERIAL THAT MAY INFECT YOUR COMPUTER EQUIPMENT, COMPUTER PROGRAMS, DATA OR OTHER PROPRIETARY MATERIAL DUE TO YOUR USE OF THE WEBSITE OR ANY SERVICES OR ITEMS OBTAINED THROUGH THE WEBSITE OR TO YOUR DOWNLOADING OF ANY MATERIAL POSTED ON IT, OR ON ANY WEBSITE LINKED TO IT.
YOUR USE OF THE WEBSITE, ITS CONTENT AND ANY SERVICES OR ITEMS OBTAINED THROUGH THE WEBSITE IS AT YOUR OWN RISK. THE WEBSITE, ITS CONTENT AND ANY SERVICES OR ITEMS OBTAINED THROUGH THE WEBSITE ARE PROVIDED ON AN "AS IS" AND "AS AVAILABLE" BASIS, WITHOUT ANY WARRANTIES OF ANY KIND, EITHER EXPRESS OR IMPLIED. NEITHER FORCHT BANK NOR ANY PERSON ASSOCIATED WITH FORCHT BANK MAKES ANY WARRANTY OR REPRESENTATION WITH RESPECT TO THE COMPLETENESS, SECURITY, RELIABILITY, QUALITY, ACCURACY OR AVAILABILITY OF THE WEBSITE. WITHOUT LIMITING THE FOREGOING, NEITHER FORCHT BANK NOR ANYONE ASSOCIATED WITH FORCHT BANK REPRESENTS OR WARRANTS THAT THE WEBSITE, ITS CONTENT OR ANY SERVICES OR ITEMS OBTAINED THROUGH THE WEBSITE WILL BE ACCURATE, RELIABLE, ERROR-FREE OR UNINTERRUPTED, THAT DEFECTS WILL BE CORRECTED, THAT OUR SITE OR THE SERVER THAT MAKES IT AVAILABLE ARE FREE OF VIRUSES OR OTHER HARMFUL COMPONENTS OR THAT THE WEBSITE OR ANY SERVICES OR ITEMS OBTAINED THROUGH THE WEBSITE WILL OTHERWISE MEET YOUR NEEDS OR EXPECTATIONS.
FORCHT BANK HEREBY DISCLAIMS ALL WARRANTIES OF ANY KIND, WHETHER EXPRESS OR IMPLIED, STATUTORY OR OTHERWISE, INCLUDING BUT NOT LIMITED TO ANY WARRANTIES OF MERCHANTABILITY, NON-INFRINGEMENT AND FITNESS FOR PARTICULAR PURPOSE.
THE FOREGOING DOES NOT AFFECT ANY WARRANTIES WHICH CANNOT BE EXCLUDED OR LIMITED UNDER APPLICABLE LAW.
LIMITATION ON LIABILITY. IN NO EVENT WILL FORCHT BANK, ITS AFFILIATES OR THEIR LICENSORS, SERVICE PROVIDERS, EMPLOYEES, AGENTS, OFFICERS OR DIRECTORS BE LIABLE FOR DAMAGES OF ANY KIND, UNDER ANY LEGAL THEORY, ARISING OUT OF OR IN CONNECTION WITH YOUR USE, OR INABILITY TO USE, THE WEBSITE, ANY WEBSITES LINKED TO IT, ANY CONTENT ON THE WEBSITE OR SUCH OTHER WEBSITES OR ANY SERVICES OR ITEMS OBTAINED THROUGH THE WEBSITE OR SUCH OTHER WEBSITES, INCLUDING ANY DIRECT, INDIRECT, SPECIAL, INCIDENTAL, CONSEQUENTIAL OR PUNITIVE DAMAGES, INCLUDING BUT NOT LIMITED TO, PERSONAL INJURY, PAIN AND SUFFERING, EMOTIONAL DISTRESS, LOSS OF REVENUE, LOSS OF PROFITS, LOSS OF BUSINESS OR ANTICIPATED SAVINGS, LOSS OF USE, LOSS OF GOODWILL, LOSS OF DATA, AND WHETHER CAUSED BY TORT (INCLUDING NEGLIGENCE), BREACH OF CONTRACT OR OTHERWISE, EVEN IF FORESEEABLE.
THE FOREGOING DOES NOT AFFECT ANY LIABILITY WHICH CANNOT BE EXCLUDED OR LIMITED UNDER APPLICABLE LAW.
Geographic Restrictions. The owner of the Website is based in the state of Kentucky in the United States, and this Website is operated in and controlled from the United States. We provide this Website for use only by persons located in the United States. We make no claims that the Website or any of its content is accessible or appropriate outside of the United States. If you access the Website from outside the United States, you do so on your own initiative and are responsible for compliance with local laws. If you visit this Website or use or interact with Forcht Bank online services, information about you and your device(s), including patterns or characteristics concerning your interaction with this Website, may be collected, stored, used and processed in and transferred to, from and within the United States. Your use of this Website constitutes your consent to such collection, storage, use, processing and transfer. Applicable federal and state laws of the United States shall govern your use of this Website. If you are a non-U.S. resident, such laws may not provide the same level of protection as the laws of the country of your residence.
Governing Law and Jurisdiction. All matters relating to the Website and these Terms of Use and any dispute or claim arising therefrom or related thereto (in each case, including non-contractual disputes or claims), shall be governed by and construed in accordance with the internal laws of the State of Kentucky without giving effect to any choice or conflict of law provision or rule (whether of the State of Kentucky or any other jurisdiction).
Any legal suit, action or proceeding arising out of, or related to, these Terms of Use or the Website shall be instituted exclusively in the federal courts of the United States or the courts of the State of Kentucky in each case located in the City of Lexington and County of Fayette although we retain the right to bring any suit, action or proceeding against you for breach of these Terms of Use in your country of residence or any other relevant country.
Waiver and Severability. No waiver by Forcht Bank of any term or condition set forth in these Terms and Conditions shall be deemed a further or continuing waiver of such term or condition or a waiver of any other term or condition, and any failure of Forcht Bank to assert a right or provision under these Terms and Conditions shall not constitute a waiver of such right or provision.
If any provision of these Terms and Conditions is held by a court or other tribunal of competent jurisdiction to be invalid, illegal or unenforceable for any reason, such provision shall be eliminated or limited to the minimum extent such that the remaining provisions of the Terms and Conditions will continue in full force and effect.
Revisions. We may revise and update these Terms and Conditions from time to time in our sole discretion. All changes are effective immediately when we post them. Your continued use of the Website following the posting of revised Terms and Conditions means that you accept and agree to the changes.
Your Comments and Concerns. This website is operated by Forcht Bank, 2404 Sir Barton Way, Lexington, KY 40509
All feedback, comments, requests for technical support and other communications relating to the Website should be directed to [email protected]. You should not include any account specific information when emailing us using this address.
Effective Date: May 2021
Still have questions? Check out our Frequently Asked Questions page. Visit our FAQs
Prefer a more personal touch? Contact us directly - our team is ready to help! Connect With Us
Open an account securely online in as little as 3 minutes.
Apply for a home mortgage loan in as little as 10 minutes. And have an experienced lender at your fingertips to walk you through the process.